ServerMania 1.00 for TM² Canyon released
(By Cyrlaur on 26/10/2011 at 23:53)
ServerMania 1.00 for ManiaPlanet (TrackMania² Canyon) is now available.

This version is mainly for Canyon compatibility and supports only Canyon.
So do not install it over your current installation.
ServerMania 0.99 release
(By Cyrlaur on 18/10/2011 at 00:22)
After an infinite beta period, here is the last ServerMania version for TM Forever.
This main 0.99 version has nothing more than last beta 0.98.4.

I've also updated the download page with lastest Forever Dedicated Server & Game Fix from Nadeo.

More to come soon with a Canyon compatible version ...
New dedicated server and Game Fix
(By Cyrlaur on 17/10/2009 at 12:56)
Nadeo has released new version of dedicated server and game fix.
Dedicated server and Game Fix update
(By Cyrlaur on 05/01/2009 at 11:32)
A bit late but just a small message to let you know Nadeo has released new version of dedicated server and game fix.
ServerMania 0.98 released
(By Cyrlaur on 26/10/2008 at 01:23)
ServerMania 0.97 release
(By Cyrlaur on 01/06/2008 at 20:09)
Ok here is an update which mainly fixes issues from previous release.
There is also a few improvements and new things as the
development section
shows as usual.
By the way don't forget to download the last dedicated server release :
TrackmaniaServer_2008-05-19.zip
Update 08/09 :
Current dedicated server release is now :
TrackmaniaServer_2008-08-05.zip
There is a game fix that goes with it (2.11.16 from 2008-07-30).
Next ServerMania version is still in progress.
New ServerMania support forum
(By Cyrlaur on 24/04/2008 at 01:28)
For better support all that concerns bug reports will now be handled in a
dedicated support forum
(friendly provided by Dedimania.com).
So please do not use any more the news comments for your bug reports and reduce as much as possible the use of mail for this as well.
Remember there is
ServerMania general thread on international forum
and on
french forum
for your suggestions/congratulations.
You'll also find the forum link in this website main menu.
ServerMania 0.96 for TrackMania Forever is there !
(By Cyrlaur on 19/04/2008 at 21:05)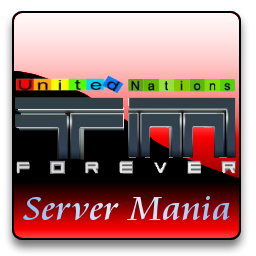 Ok the new ServerMania for Trackmania Forever (TMUF & TMUF) is there, even it's not explicitly written in the title. It means that there is no more different edition so United and Classic Edition are gone, and also TMO, TMS, TMN (ESWC) and TMU are no longer supported.
Actually if you decide to upgrade to this new version it means you simply move to Forever and its new dedicated server (
TrackmaniaServer_2008-04-18.zip
). If you still want to run dedicated server for old TM games you'll have to look
there for classic edition files (TMO/TMS/TMN)
and
there for TMU
.
As said before it's all new, so you'll have to use the new Forever dedicated server and to start from scratch for server configuration as there is many new parameters in the new server config file, so delete any old server configuration and set a new one.
If you want to run a dedicated server for
TMNF
you'll have to
create another account using the game
and use it for your server and don't forget to
set Packmask to 'Stadium'
in server configuration.
Support of Forever is not all that this new version brings, for more details just see development section as usual.
Have an happy Forever hosting with ServerMania

Small fixing update
(By Cyrlaur on 13/01/2008 at 17:03)
A small update this time mainly to fix an issue from last update.

Hopefully this could be the good one to wait for "TM Forever".
Ending year update
(By Cyrlaur on 23/12/2007 at 15:44)
Here come an update for both ServerMania edition (0.89 CE/0.93 UE) before Forever edition of TMU & TMN comes out next year which should put an end to Classic Edition of ServerMania.
Whereas you can see all changes in
development
section as usual, just one word on this new feature :
Ability to move a challenge (check) to any place in playlist by using "move to highlighted challenge" context menu command.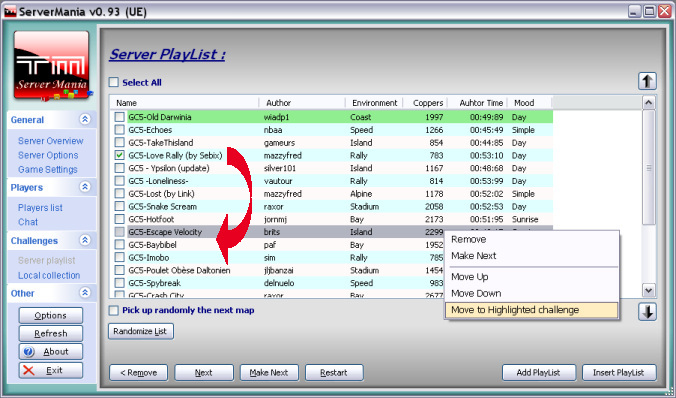 So how it works ? First step is to check in the list the challenge you want to move to another position in playlist. Then right click on where you want this challenge to be moved. This will highlight the line where your mouse is as well as display a context menu. Finally as shown on the picture above, just click on "Move to Highlighted challenge" so that your initially selected challenge will be moved just under the highlighted one.
And that's it, this the way I've implemented this frequently requested feature.
Notice that player list has a context menu (with right click) like the server challenge list one.
At last, I wish a merry christmas to all ServerMania users and even more to all of you reading this